2016-2017 Speaking Engagements
You may contact Shirley at shirley.showalter(at)gmail.com to request a keynote, workshop, retreat, or other speaking assignment. The following engagements provide a sample of Shirley's topics and interests.
Spring-Summer, 2022
January 18, 2022, A Lititz Childhood, Mennonite Style, Steinman Hall, Moravian Manor, Lititz, PA
April 29, 2022, Book Launch for The Mindful Grandparent: The Art of Loving Our Children's Children, First Presbyterian Church of Kalamazoo, MI. With Marilyn McEntyre. 7 p.m.
May 3, 2022, East Coast book launch for The Mindful Grandparent: The Art of Loving Our Children's Children, Lititz Church of the Brethren, 7 p.m.
May 4, 2022, Book Talk, The Mindful Grandparent: The Art of Loving Our Children's Children, Landis Homes Retirement Community, West Bethany Chapel, 4 p.m.
May 10, 2022, "Be a Story Weaver," for Everence Development Officer Meeting, Wyndham Hotel, Lancaster, PA, 9 a.m.
June 23, 2022, "Mindful Grandparenting: A New Calling for A New Age," Harrisonburg, VA, 7 p.m.
June 27, 2022, Interview, Good Day PA, WHTM-TV, Channel 27, ABC affiliate, 10 a.m.
August 4, 2022, interview and book talk with Jason Samuel at Fables Books, Goshen, IN 5 p.m.
Fall, 2016-2017
Shirley's current speaking engagements are focused, directly or indirectly, on her book Blush: A Mennonite Girl Meets a Glittering World. She also speaks about Aging, Vocation, and Joy. Her topic this fall is Jubilación: Vocation in the Third Act of Life. She is open to requests.
She does book signings, book talks, and author talks. So far she has more than 20,000 miles either traveled or scheduled!
You may contact her at shirley.showalter(at)gmail.com to request a keynote, workshop, retreat, or other speaking assignment.
October 15, 2016 TEN Talk at Homecoming, Eastern Mennonite University, Harrisonburg, VA. "Everything I Needed to Learn I Learned in Northlawn."
September 3-5, 2017 Keynote Address: "The Purpose of Memory," Brubaker Reunion (300 years after immigrant arrival), Millersville University, Lancaster, PA.
Fall-Winter, 2014-2015
September 18,  3 p.m. Strite Auditorium, Crestwood, Virginia Mennonite Retirement Community, "What I Discovered by Writing Blush."
October 2, 4-5 p.m, Bowers Writing Center, Elizabethtown College. "The Hook: How to Start Your Written Work So that the Reader Has to Keep Reading"

October 2, 7:30 p.m. Bucher Meetinghouse, The Young Center, Elizabethtown College, "Looking Backward on a Career: How Growing Up Mennonite Prepared Me for Leadership (and How a Life of Reading and Teaching led Me to Authorship)"
Weekend Retreat Friday evening October 10-Sunday after lunch October 12, Amigo Centre, Cassopolis, MI. Indiana-Michigan Mennonite Women. "Recovering Simplicity"
October 19, Prairie Lights Bookstore, Iowa City, IA, 2 p.m., with Carol Bodensteiner, "Is the Past Ever Past?" Book talk and signing.
October 25, Gospel Bookstore, Berlin, OH, 9 a.m. - noon; book signing and conversation
October 26, Millersburg Mennonite Church, Millersburg, OH, morning service
Sunday January 11, 6 p.m. "I Love to Tell the Story," worship service and talk-back, Bahia Vista Mennonite Church, Sarasota, Florida
The BooktourAnniversary Palooza Amtrak 30-Day Pass on Coastal Starlight and Empire Builder Trains
July 6,  9:30 a.m., Worship service and talk-back, "I Love to Tell the Story," Portland Mennonite Church, Portland, OR.
July 6, 7 p.m. Book talk and signing, Pacific Northwest Mennonite Historical Society, near Zion Mennonite Church
July 9, 7 p.m., book talk and signing, Third Place Books, Seattle
July 11, 7 p.m., Book talk on "Writing as Spiritual Practice" with April Yamasaki and Danny Unrau, House of James Book Store and Café, Abbottsford, BC, Canada.
July 13, book talk and conversation, Vancouver, BC, Point Grey Inter-Mennonite Fellowship
July 20, Worship service and talk-back, Faith Mennonite Church, Minneapolis "I Love to Tell the Story: Mary and Martha"
July 20 , 1-4 p.m.EDT, by Skype, Workshop:  "From Perplexed to Published," Squirrel Hill Carnegie Library, Pittsburgh http://www.carnegielibrary.org/events/details.cfm?location=Squirrel%20Hill&event_id=106429
July 27 11 a.m. Sunday School hour and light lunch, Pittsburgh Mennonite Church
Previous Engagements, 2014
June, 2014
June 1,  6 p.m., The Friends Meetinghouse (Manhattan Mennonite Fellowship), 15 Rutherford Place, New York, NY, "Strange Bedfellows: Writing the (Mennonite) World as We Are. With Jessica Penner.
June 4, luncheon fundraiser, Samaritan Center fundraiser, Elkhart, IN. By invitation. "How Telling Our Stories Can Save Our Broken Lives: Combining Mind, Body, and Spirit"
June 5, 10 a.m. Greencroft Retirement Community, Goshen, IN, talk and book signing " Why your Life Story Matters: And Five Tips for How to Tell it Better"
June 5, 7 p.m., Kazoo Books, Kalamazoo, MI. Reading and signing.
June 30, 1 p.m. Harrisonburg, VA Public Library, book talk and signing with poet Angela Carter
May, 2014
1. May 17, noon luncheon, Harleysville, Pennsylvania, The Mennonite Heritage Center. Mennonite Women of Pennsylvania: Our Heritage
2. May 18, worship service and talk back session afterward, Blooming Glen, Pennsylvania, Mennonite Church, "I Love to Tell the Story: Jesus in the Temple"
3. May 27, 7 p.m., The Cell Theatre, 338 W. 23rd St., New York, NY, reading the "Fresh Air Girl" chapter from BLUSH
April, 2014
April 11          Lancaster Mellinger Church Spring Gathering, April 11
March, 2014
March 6-11 Kansas Book Tour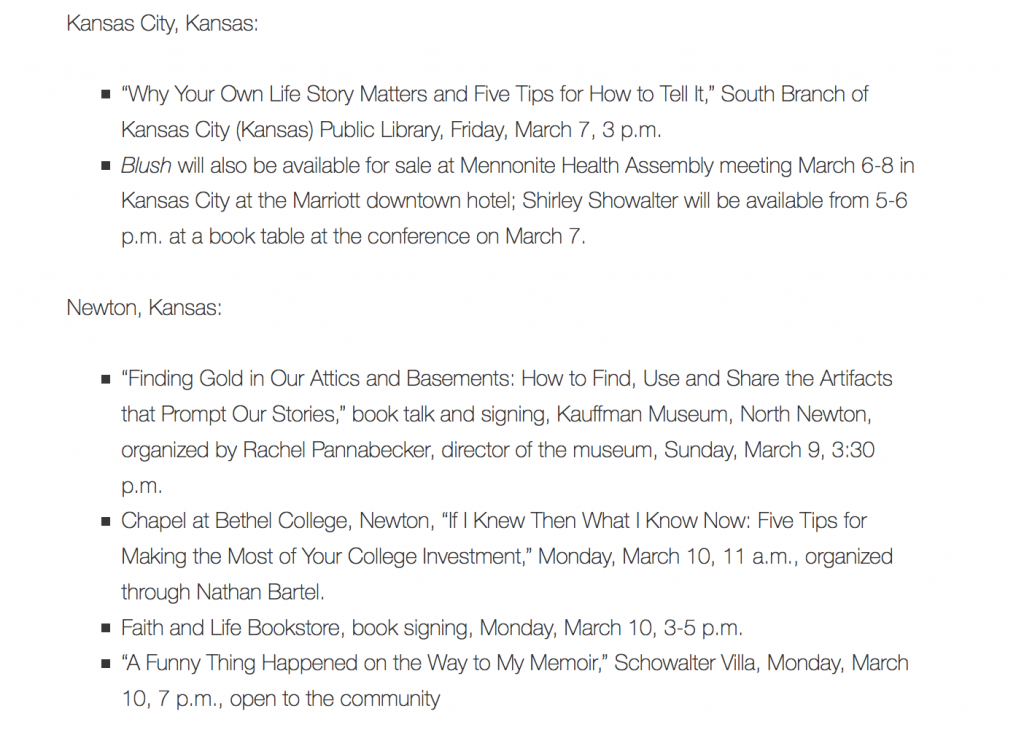 February, 2014
Book club talk, Park View, VA. Feb. 18
February 24, Mellingers Mennonite Church, Lancaster, PA, 7 p.m. with Valerie-Weaver Zercher. For the benefits of the Lancaster Mennonite Historical Society. "What We Learned from Writing Our Books"
February 25, Good Day PA interview on Channel 27 ABC Harrisburg, PA, station. Noon.
February 26, Mt. Joy Mennonite Church, 7 p.m. with Saloma Miller Furlong. Coverings: Stories of Amish and Mennonite Women
September-December, 2013 was the Book Launch Tour. Details here: http://shirleyshowalter.com/tour/

The 2012 and 2011 events listed below give you a sample of topics and venues Shirley enjoys.
Leading From Within, Mennonite Health Assembly
Using StrengthsFinder to Build Leadership Teams, Mennonite Health Assembly
Identifying and Supporting Women in Leadership
April 29, 30, 2011, May 1 Annual Association Spring Meeting, "Dancing with Change."http://www.lmhs.org/Home/Events/Annual_Banquet
May 12, 2011, Monthly Memoir Writing Roundtable. Teleconference. 4 PM PST |5 PM MST | 6 PM CST | 7 PM EST , "Land That I Love: Writing About Places in Memoir." More details available at National Association of Memoir Writers website: www.namw.org
June 4, 2011, Garden Spot Village, New Holland, PA. Your memories coming alive:  Writing your memoir
Learn about the importance of memories, and how to document them in writing.  Writing is a spiritual tool you can use to create the storyline of your life.  It's a way to inspire others to tell their stories.  There will be discussion of specific techniques and approaches, and additional training needed to write your story.
June 12-16, Women's Advanced Leadership Training, CCCU-sponsored for women leaders in Christian Higher Education, Bellingham, WA.