The Mindful Grandparent: The Art of Loving Our Children's Children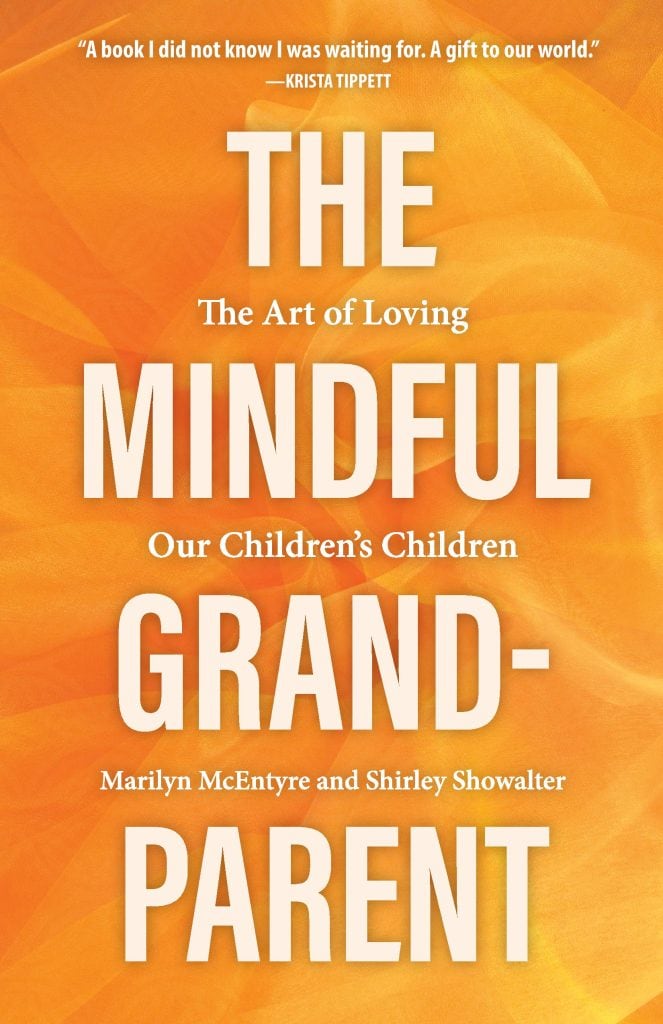 Loving our children's children well is an art—one we keep learning as they grow.
Making memories and fostering relationships with our grandchildren in the midst of a fast-moving culture isn't easy, and a legacy that lasts isn't crafted overnight. So how do we as grandparents cultivate strong, meaningful relationships with the children we adore?
Start with The Mindful Grandparent. With twelve grandchildren between them, authors and educators Marilyn McEntyre and Shirley Showalter know deep in their bones that attending to the small ones in our lives has never been more important. Grandparents can help little ones learn to value relationships over things, lap time over screen time. They can help grandchildren live with intention, attentive to others, to nature, and to the diverse, beautiful, and troubled social world around them.
The Mindful Grandparent doesn't shy away from the challenging issues in contemporary grandparenting. Through inspired ideas teamed with simple practices and engaging stories, The Mindful Grandparent covers wide-ranging topics such as cultivating curiosity, giving meaningful gifts, helping children explore difficult topics, building a grandparent team, honoring adult children's boundaries, and managing technology.
Let The Mindful Grandparent be your guide and source of refuge for the sacred and sometimes bewildering work of grandparenting.
Praise for The Mindful Grandparent
"This is a book I did not know I was waiting for. It is a reflective handbook for becoming a grandparent—perhaps the first ever?—but so much more. A celebration of the flow and fullness of life. A call to the honor and pleasures of eldering. It is a gift to our world which is so in need of—and so ripe for—old ways and new of deep accompaniment and formation across generations."
—Krista Tippett, founder and editor-in-chief of The On Being Project, host of On Being program and podcast, and recipient of the National Humanities Medal
"The Mindful Grandparent is not only warm, loving, and practical; it's also gently honest. The authors know that this three-generation dance between grandparents, their own children, and their grandkids sometimes means that toes get stepped on. But as we learn the steps involved in doing a graceful dance, we see more clearly that this three-generation dance is grace-filled."
—Parker J. Palmer, author of On the Brink of Everything, The Courage to Teach, and Let Your Life Speak
"The Mindful Grandparent is essential reading for longtime grandparents, grandparents-to-be, and anyone else who seeks to give loving, grandparent-style caring to our young. Marilyn McEntyre and Shirley Showalter show us how grandparenting is both an art and a contemplative practice. They offer a roadmap for navigating the many roles grandparents play, as well as the new and diverse challenges facing their grandchildren. "
—Judith Valente, former PBS faith and values correspondent and author of The Art of Pausing and How to Be
"This beautifully written book is filled with love but devoid of sentimentality—richly affirming of grandparents while also challenging us to keep growing and learning as we seek to be helpful to today's children and their parents. Here you'll find renewal, inspiration, and genuine help as you respond to a beloved and important calling."
—Dorothy C. Bass, author of Stepmother: Redeeming a Disdained Vocation and Receiving the Day: Christian Practices for Opening the Gift of Time
"This is a book of wisdom, lightly worn, joyfully shared. The scope is generous and fearless, from crafts and games to racism and death. As a pediatrician, I affirm the authors' respectful understanding of children (and parents) and how they flourish. As a grandmother, I treasure what this graceful work teaches me."
—Margaret Mohrmann, professor emerita of pediatrics and religious studies at University of Virginia and author of Attending Children
"The Mindful Grandparent is a warm and delightful invitation to enjoy grandparenting—and to do it well. Chock full of stories, ideas, wisdom, and encouragement, this is a book to keep handy and return to often."
—Dora Dueck, award-winning author and grandmother of nine
"Whether you are already a seasoned grandparent or on the threshold of this chapter of your life, this book will challenge you to awaken to who you are in this moment, and who you can become—which, as the authors say, is 'what grandparenting, and life itself, is all about.'"
—Marlena Fiol, professor emerita at University of Colorado and author of Nothing Bad Between Us and CALLED
"This amazing book offers words for every birth-grandparent, step-grandparent, and foster-grandparent. No one who reads this book—a guide filled with practical ideas for caregiving and the hope that mindful grandparenting will change three generations and the world—will ever forget the helpful lists, impressive resources, wise advice, and tender stories that move from page to heart. The authors teach us to 'raise future grandparents.'"
—Maren C. Tirabassi, pastor and author of twenty-two books
"The Mindful Grandparent offers a wealth of stories, suggestions, and ideas for grandparents, blending Marilyn McEntyre and Shirley Showalter's personal experiences and thoughtful reflections with solid but unobtrusive research. With these two canny, good-humored, knowledgeable guides, among a host of fellow travelers like and Maria Montessori, Walt Whitman, and Mary Oliver, both new and experienced grandparents—and anyone seeking fresh ways of relating to children—will find much here to treasure and to practice."
—Jeff Gundy, distinguished poet-in-residence, Bluffton University, and author of Wind Farm: Landscape with Stories and Towers and other books